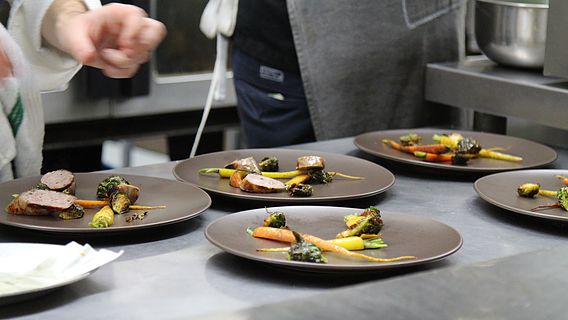 If you want to have great dinner in a classy setting, then Heirloom is just place for you to dine. Launched in early 2014, Heirloom is known for its singular dedication to offer the best and the freshest food.
One of the trendiest farm-to-table restaurants in Charlotte today, Heirloom was founded by Chef Clark Barlowe, who is a graduate of Charlotte's Johnson & Wales University, and has worked for some of the most prestigious establishments of the world, such as elBulli (in Spain) and The French Laundry (in California).
The menu here changes every day, and is a cause of much anticipation from visitors, new and repeating alike. Heirloom's menu offers a range of globally-inspired dishes with locally sourced ingredients, and includes various seasonal dishes along with staples such as sweet-potato gnocchi and angus steak. They also have a "catch of the day" section, featuring a special dish that is created from ingredients that have been exclusively produced in North Carolina. Since May, Heirloom has also been hosting family-style dinners.
Address: 8470 Bellhaven Blvd, Charlotte, NC 28216
Phone: 704.595.7710
Website: http://www.heirloomrestaurantnc.com/  
Visit Our Locally Sponsored Blog
"
Purchasing a charlotte NC house
is a very amazing time. There is a great deal of work that comes before you can kick off moving in. Here's a review the primary steps you must take when buying your premier residence."..."Before the fun aspect of looking for
homes for sale in charlotte NC
begins, you ought to assess your financial situation. That means determining the amount of you can afford on the down payment, monthly mortgage payments plus just how much you have available towards closing costs."..."
PURE Real Estate of Charlotte NC
has years of experience in the industry and can get you familiar with everything involved with Charlotte realty. Whether you are buying or selling a dwelling, PURE Real Estate can guide you in the right direction and keep you informed of every step along the way."
https://purerealestate.wordpress.com