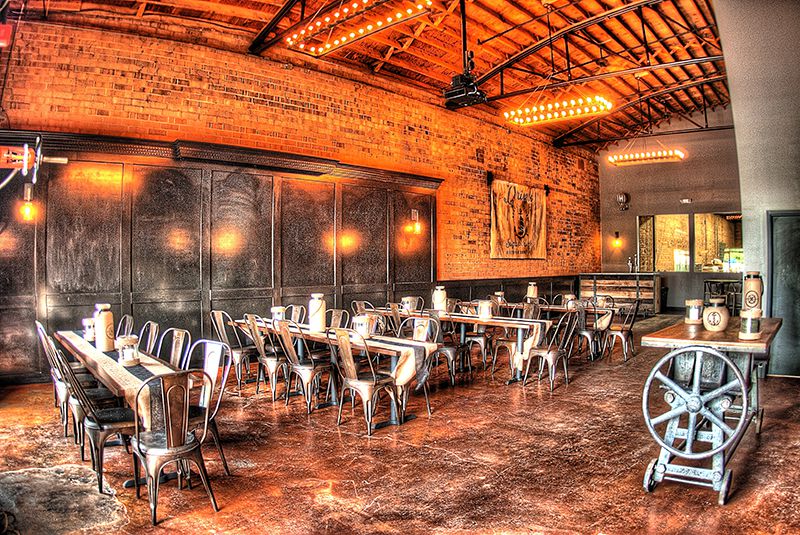 Making the best of the situation – now this is one brewery that can definitely be credited for this. Charlotte's first Belgian-style brewery, Sugar Creek Brewing Company made The Olde Mecklenburg Brewery's former home on Southside Drive its very own and how!
Sugar Creek Brewing Company is fascinating in its own right, with several resemblances to as well as stark differences from the previous tenants of the property. Set up quite quickly courtesy the fact that the property was already set up as a turnkey brewery, Sugar Creek opts for showcasing old-world styles, much like its predecessor. Not to mention the fact that it maintains a fine standard.
Sugar Creek does, however, favor Belgium over Germany, and to that end serves its high-quality beer in a manner that strongly resembles the ways of the Belgian Trappist monks.
One of its main highlights is being served the saison, witbier, and dubbel-style brews in a setting that can best be called a blend of refreshed maritime and steampunk.
You most certainly cannot leave Sugar Creek without trying its award-winning Sugar Creek's Belgian Dubbel. This drink is a recipient of the silver medal at the 2015 U.S. Open Beer championship.
Sugar Creek's menu is not limited to Belgian styles though. They also offer other interesting items such as Mocha Java Porter and hop-forward pale ale, among many others. They also have solutions for those who'd like something to eat with their beer, with their house-made paninis such as juicy jalapeño-spiced chicken breast or the Thermal Nuclear Kraken.
All in all, if you like the old world charm, yet would like to try something different, Sugar Creek is the place to go.
Contact Information:
Address: 215 Southside Dr., Charlotte, NC 28217
Phone: 704-521-3333
Website: sugarcreekbrewing.com
Visit Our Locally Sponsored Blog
"
Purchasing a charlotte NC house
is a very amazing time. There is a great deal of work that comes before you can kick off moving in. Here's a review the primary steps you must take when buying your premier residence."..."Before the fun aspect of looking for
homes for sale in charlotte NC
begins, you ought to assess your financial situation. That means determining the amount of you can afford on the down payment, monthly mortgage payments plus just how much you have available towards closing costs."..."
PURE Real Estate of Charlotte NC
has years of experience in the industry and can get you familiar with everything involved with Charlotte realty. Whether you are buying or selling a dwelling, PURE Real Estate can guide you in the right direction and keep you informed of every step along the way."
https://purerealestate.wordpress.com