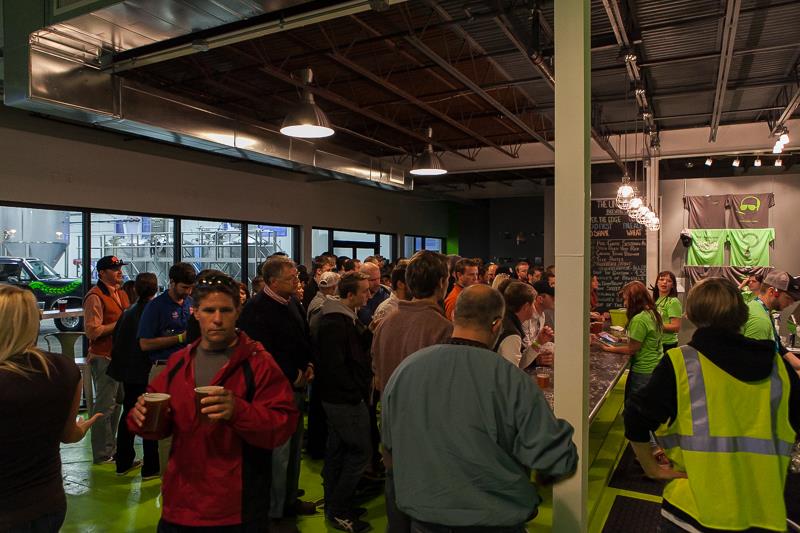 First things first, there's absolutely nothing unknown about this brewery. Except the fact that they always seem to handle everything with a smile. Opened by Brad Shell in November 2013, this is one place that you are bound to never forget.
Perhaps the best thing about Unknown Brewing Co. is the fact that it can – and does – take many by surprise. So if you walked in looking for the same old reclaimed lumber, you would be surprised to see the Hunter S. Thompson quote on the wall and the neon-green-flooring.
Shell, who has had an impressive career brewing with bacon, Sriracha, cream cheese, and 99 scorpions, offers a core lineup of a IPA, wheat, and pale ale, which may seem uninteresting, but is definitely is worth a try. Don't forget to try out the three signature craft beers here: Ginger Wheat, Over the Edge American IPA, and Pre Game session ale .
Special Mention: The Motto – "step into the Unknown."
Contact Information:
Address: 1327 S. Mint St., Charlotte, NC 28203
Phone: 980-237-2628
Website: http://www.unknownbrewing.com
Visit Our Locally Sponsored Blog
"
Purchasing a charlotte NC house
is a very amazing time. There is a great deal of work that comes before you can kick off moving in. Here's a review the primary steps you must take when buying your premier residence."..."Before the fun aspect of looking for
homes for sale in charlotte NC
begins, you ought to assess your financial situation. That means determining the amount of you can afford on the down payment, monthly mortgage payments plus just how much you have available towards closing costs."..."
PURE Real Estate of Charlotte NC
has years of experience in the industry and can get you familiar with everything involved with Charlotte realty. Whether you are buying or selling a dwelling, PURE Real Estate can guide you in the right direction and keep you informed of every step along the way."
https://purerealestate.wordpress.com