Bank Of America Stadium (Panthers Stadium)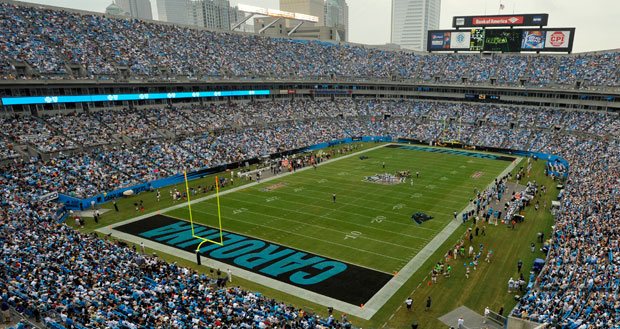 If football is your game, then this one should definitely be on your list! Opened in 1996, this stadium may be known by many different names (from Carolina Stadium to Ericsson Stadium to the currently-used Bank of America Stadium after the Bank of America purchased naming rights in 2004; not to mention popular names such as "The BOA," "The Bank" and "Panthers Stadium"), but it's legacy remains the same.
Located in uptown Charlotte, this 75,525-seater stadium houses the headquarters and facility of the NFL's Carolina Panthers (hence the name "Panthers Stadium"). In addition to hosting NFL games, the Panthers Stadium also hosts NCAA games, as well as the yearly Belk Bowl, which features teams from the Southeastern Conference (SEC) and the Atlantic Coast Conference (ACC). This is also the stadium to hold the record for the largest crowd to attend any football game (Clemson Tigers vs. North Carolina Tar Heels; December 5, 2015).
Contact Information:
Address: 800 S Mint St, Charlotte, NC 28202, USA
Phone: +1 704-358-7000
Website: http://www.panthers.com/stadium/
Visit Our Locally Sponsored Blog
[wp_posts_carousel template="default.css" post_types="post" all_items="999" show_only="newest" exclude="" posts="" ordering="desc" categories="" relation="and" tags="" show_title="true" show_created_date="false" show_description="excerpt" allow_shortcodes="false" show_category="false" show_tags="false" show_more_button="true" show_featured_image="false" image_source="thumbnail" image_height="100" image_width="100" items_to_show_mobiles="1" items_to_show_tablets="2" items_to_show="2" slide_by="1" margin="10" loop="true" stop_on_hover="true" auto_play="true" auto_play_timeout="5000" auto_play_speed="800" nav="false" nav_speed="800" dots="true" dots_speed="800" lazy_load="false" mouse_drag="true" mouse_wheel="false" touch_drag="true" easing="linear" auto_height="true" custom_breakpoints=""]