U.S. National Whitewater Center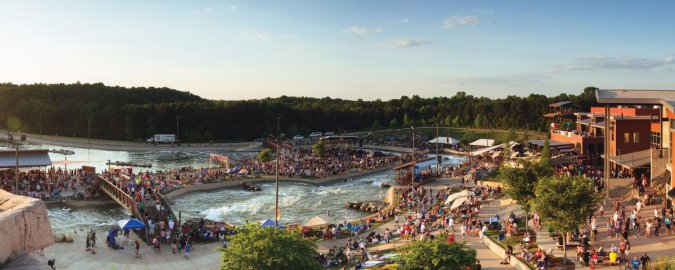 If you love the outdoors, you'd love to visit the U.S. National Whitewater Center (USNWC). Located about 15 minutes away from uptown Charlotte, the USNWC, which opened in 2006, is a non-profit facility for professionals and enthusiasts alike. Spread across 700 acres, the USNWC offers visitors to pursue several different outdoor activities, by air, land and water.
There are a wide variety of activities that can be done at the USNWC (not just whitewater rafting!), from hiking and mountain biking, to canoeing and whitewater rafting, to going on zip lines and rope courses for all ages and skill levels. And in case you're the quiet type, you can simply take your computer and do your work in the Pump House Biergarten! You can even take your dog(s) along with you on the exclusive dog-walking paths.
The UNNWC also has a lot of scope for having a good time, especially in the company of family and friends. It features the River's Edge Bar & Grill, which features a wide variety of foods, good wine and craft beer. The center also acts as a host to various adventures, music as well as food events like such as the Whitewater River Jam, Zipline & Dine, and the Microbrews Cruise.
You're never going to get bored visiting this place. That's for sure.
Contact Information:
Address: 5000 Whitewater Center Parkway, Charlotte, NC  28214
Phone: 704.391.3900
Website: http://usnwc.org
Visit Our Locally Sponsored Blog
"
Purchasing a charlotte NC house
is a very amazing time. There is a great deal of work that comes before you can kick off moving in. Here's a review the primary steps you must take when buying your premier residence."..."Before the fun aspect of looking for
homes for sale in charlotte NC
begins, you ought to assess your financial situation. That means determining the amount of you can afford on the down payment, monthly mortgage payments plus just how much you have available towards closing costs."..."
PURE Real Estate of Charlotte NC
has years of experience in the industry and can get you familiar with everything involved with Charlotte realty. Whether you are buying or selling a dwelling, PURE Real Estate can guide you in the right direction and keep you informed of every step along the way."
https://purerealestate.wordpress.com